A picture is worth a 1000 sells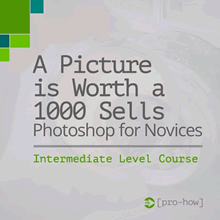 Command your camera and Photoshop with this hands-on 8-hour training workshop. Focus on taking and preparing photography for your business marketing.
4 dinners, workbook, and light kit included. $447.00
Hands-on 8 hour training workshop (4 2-hour sessions)
Light dinner with each session.
Course handbook with step-by-step instructions
Photography lighting kit
Take great photos
Get prepared with good lighting and technique. No more bad shots.
Transfer your photos
Photos trapped on your camera or phone? Not anymore, confidently import with ease.
Fix minor blemishes
Red-eye, pimple and unwanted marks ruining your picture? Learn how to clean up your image.
Prepare for marketing
Take an ordinary product photo and make it look extraordinary with top Photoshop preparation secrets.
Online Classes Available
Safe Driving School
4015 Belle Terre Blvd
Myrtle Beach, SC 29579
SESSION 1 - FIRST DAY OF CLASS
Introduction to A Picture is Worth 1000 Sells
Meet your instructor. Review the course plans and objectives. Learn about RdyToGo.
10 mins
Get Your Light Right
Learn how to ensure the best results by having your lighting just right. Practice setting up your scene and lighting.
50 mins
Dinner Break
Dinner break
15 mins
Taking Photos Like A Pro
Know how to position your subject in the photo and use lighting to snap the best photos.
30 mins
Tips and Practice
Get answers to your photography questions and some practice time to hone your new found skills.
30 mins
SESSION 2 - SECOND DAY OF CLASS
Transferring Photos
Learn how to move your Photos from your camera or phone to your computer.
1 hour
Dinner Break
Dinner break
15 mins
Organizing Photos
Learn how to group, sort and organize photos. Understand the various types of photos and how to name them for search engine optimization.
1 hour
SESSION 3 - THIRD DAY OF CLASS
Photoshop Basics
Learn about layers and experience some basic photo editing tools. Practice removing blemishes and red eye.
1 hour
Dinner Break
Dinner break
15 mins
Bring Your Photo To Life
Learn and practice photoshop fundamentals like brightness, contrast, saturation, exposure, cropping and resolution.
1 hour
SESSION 4 - FOURTH DAY OF CLASS
Product Photo Project - Part 1
In this project we will take a photo of a product and use everything we learned so far to get the photo of the product prepared for marketing purposes. In part 1 we will prepare the scene, take the photos, import them into the computer, and organize them.
1 hour
Dinner Break
Dinner break
15 mins
Product Photo Project - part 2
We will complete our project by editing the photo in photoshop and saving a final version of the product ready for marketing. We will review all the new skills we have learned and answer final questions.
1 hour